I tried SAP Cloud Platform because I want Development System for creating this homepage.
At first, I created a account in the page below.(2017/08/09)
https://cloudplatform.sap.com/try.html
Click the button in the middle and enter your first and last name, e-mail address, password, etc.


After registration, a mail will be sent to the entered address, so click the activation button in the body.
Then log in with the e-mail address and password created from the LOGIN button on the upper right of the above figure.
※In my case IE was not able to login, but Google Chrome was could do it.
After login the following screen will be displayed.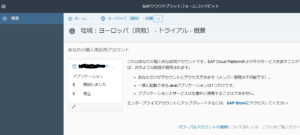 I click [start] on trial version.
But in that, I couldn't try ABAP development.
I want that I developement in transaction SE38.